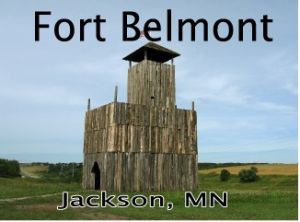 Stop by Fort Belmont in Jackson MN, and explore a unique re-creation of Fort Belmont built by settlers living in Belmont township of Jackson County in the early 1860s.
Fort Belmont hosts several items of interest including:
*Replica 1860's log cabin and stockade
*Blacksmith shop
*Hand-built prairie sod house
*40-foot tower overlooking the Des Moines River Valley
*1/3 replica working grist mill
*1873 Lysgard farmhouse & summer kitchen
*1902 Delafield Church
*Museum and trading post
The Fort is located at the intersection of US Hwy 71 and Interstate 90, Jackson, exit 73. Go 1 block south of I-90 and turn right, by Asa Auto Plaza and then west to the end of Belmont Lane.
Open daily for tours Memorial Day through Labor Day; M - F 10 a.m. to 4 p.m., Sat. 9 a.m. to 3 p.m. and Sun. 12 noon to 4 p.m.
Entry Donations: $5/adult and $2/student.
Museum phone # (507) 847-6672.
** Pioneer Days at Fort Belmont on Sat. & Sun., August 28th & 29th. Hope to see you there!
For  complete information regarding Fort Belmont, visit http://www.fortbelmontmn.com
Open for tours daily, Memorial Day through Labor Day
Please enter the museum upon arrival and register at the Trading Post counter. Staff will be available to take you on a personal tour of the Fort.
Site Hours:
Monday - Friday            10:00 a.m. - 4:00 p.m.
Saturday                          9:00 a.m. - 3:00 p.m.
Sunday                            12 noon - 4:00 p.m.
Tours for school groups and bus tours are also available after May 1st or before October 1st by appointment. Please call the local Chamber office at 507-847-3867 for additional details.
WWW (Worship, Word & Watermelon) Services - This event is sponsored cooperatively with the local Jackson County Ministerial Association. Each Sunday evening at 7:00 p.m. the bells of the Delafield Church ring, to call one and all to an ecumenical church service followed by fellowship and watermelon, compliments of the sponsoring church congregation. WWW services begin in June.
Pioneer Days - The Pioneer Days celebration is held on August 28-29, 2021. Gather with the buck skinners at Fort Belmont to celebrate the lifestyle of years gone by. Primitive camping, cooking over an open fire, blacksmithing, demonstrations of pioneer living and other trades of the 1800s era will be on display to experience.
The ornate and beautiful Delafield Church creates the perfect setting for your romantic and intimate wedding ceremony. Delafield Chruch can accomodate 100-125 people, and is equipt with sound system for mics and music.
If you prefer an outdoor wedding on the serene and grassy lawns, there are wide sections that can easily accomodate large tents and chairs. (Tents and chair rental, set-up and tear down are renters responsibility. Contact Henning Rental in Jackson for local rental rates/availability.) Mics and portable sound system is available for outdoor ceremony use.
Church rental contract link is below. Or, for additional details, rental rates and reservations contact the Jackson Area Chamber of Commerce at (507)847-3867 or chamber@jacksonmn.com